Factory steel bumpers with integrated winch provisions and recovery points and Boron-steel skid plates, all co-developed by Chevrolet and AEV, make Bison ready for off-the-grid adventures
Introducing the Chevrolet ZR2 Bison, the most capable off-road truck in its class meets the most innovative manufacturer in the aftermarket. The ZR2 Bison was a co-development project between Chevrolet and American Expedition Vehicles (AEV). Bison marks the first occasion that AEV has collaborated with any OE manufacturer on a production vehicle of this magnitude.
The Colorado ZR2 Bison joins Chevrolet's segment-redefining midsize truck lineup as an all-new performance variant. Colorado's constant innovation – including a segment-exclusive diesel engine (excludes other GM vehicles), a new V6 gas engine and 8-speed transmission combo only two years into production, and the ZR2 performance variant – has allowed Chevy to carve out more than a quarter of the midsize truck segment in less than four years in the marketplace.
With the help of several key integrated AEV components, this most extreme Colorado yet pushes the boundaries of Chevrolet off-road ability with features that optimize the rock crawling and overlanding capabilities already present on the Z71 and ZR2 models.
For maximum protection of key undercarriage elements while driving over rocky, jagged terrain, Bison features five skid plates that cover the engine oil pan, fuel tank, transfer case and both front and rear locking differentials.  
Designed by AEV, these skid plates also offer another rarity for a production vehicle in that they are constructed of hot-stamped Boron steel.
That focus on off-road protection also extends to the AEV-designed stamped steel front and rear bumpers, which offer excellent protection while traversing obstacles like rocks and logs. 
Trail recovery is another key component of these bumpers, with the front featuring winch provisions and recovery points integrated into the rear.  Bison also features standard fog lights below the traditional headlights.
"More and more enthusiasts are discovering that Colorado is ideal for off-roading, especially overland travel," said Sandor Piszar, director of Marketing, Chevrolet Truck.
"The Colorado Z71 offers a full suite of off-road equipment, the maneuverability of a midsize truck and the driving range of a class-exclusive diesel engine. The Colorado ZR2 offers even greater off-road capability than Z71 with class-exclusive front and rear locking differentials and Multimatic DSSVTM dampers. And now, with Bison, we offer customers an even more extreme turn-key off-road truck ready to tackle your next adventure."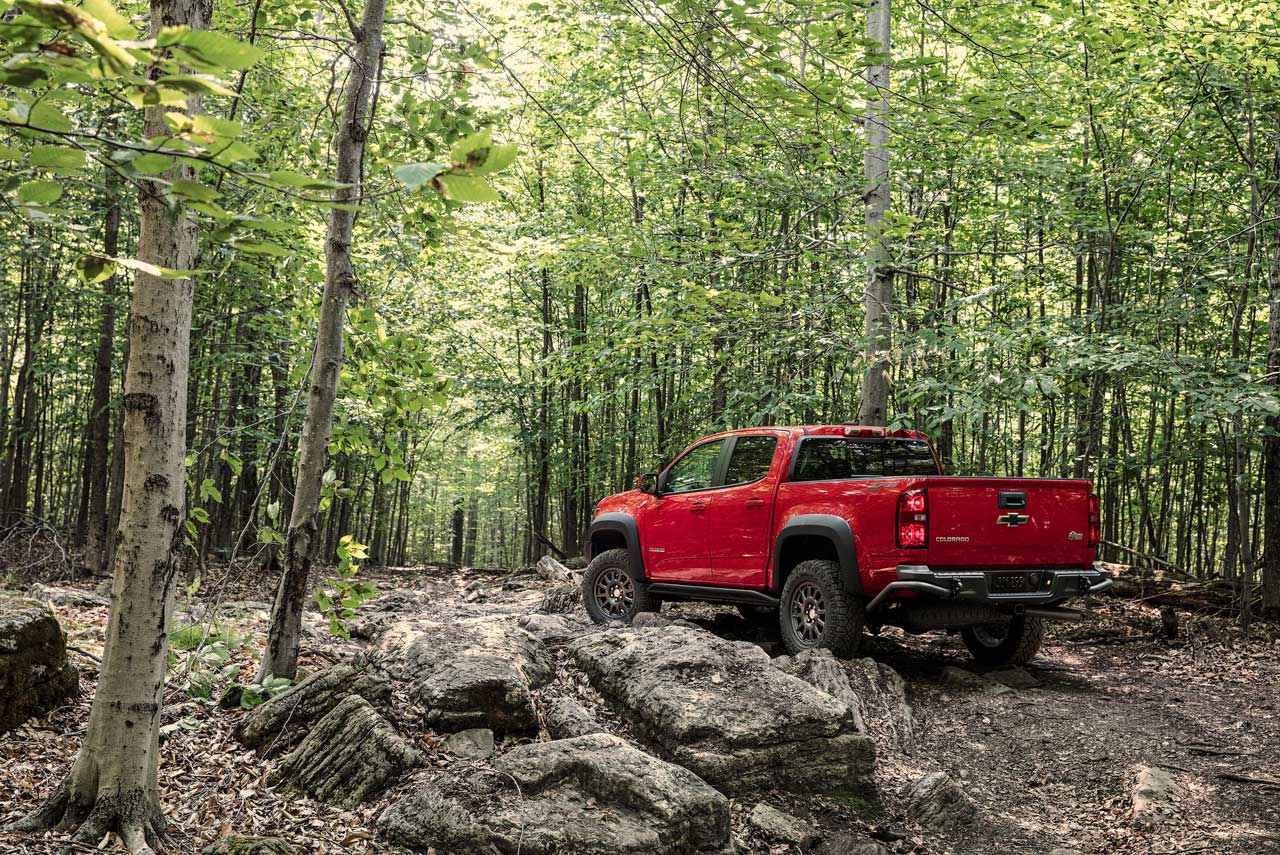 The 2019 Colorado ZR2 Bison goes on sale in January, 2019 – modified for extreme off-road use and backed by a full factory limited warranty.  
The Bison is also distinguished by an exclusive, flow-through "CHEVROLET" lettered grille replacing the traditional bow-tie. The 31-inch Goodyear Wrangler Duratrac off-road tires wrap all-new, ZR2 Bison-specific 17x 8 inch aluminum wheels. The truck comes standard with an all-terrain ZR2 Bison spare tire and special larger ZR2 Bison fender flares. The Bison-specific wheels and fender flares were also co-developed by AEV. 
This new Colorado variant also features "Bison" decals on the bed sides, an "AEV Bison" logo on the tailgate and embroidered AEV-logo floor liners and headrests. 
Customers will also be able to purchase an accessory snorkel for ZR2 Bison from AEV, ideal for air filtration while driving on dusty trails. This feature is available for all Colorado pickups.  
"We've been following Colorado since its introduction, and the ZR2 really captured our attention," said Dave Harriton, founder and president of AEV. "As this is the first Chevrolet vehicle we've ever given the AEV treatment to, we wanted to do something extra special in bringing five hot-stamped Boron steel skid plates to off-road customers for the first time in the industry. We also expect that Colorado drivers will love the added ruggedness of our front and rear bumpers on ZR2 Bison."
Specifically the AEV-designed and developed components for Chevrolet ZR2 Bison include:
Winch-compatible, stamped-steel Front Bumper with integrated fog lights.
Five hot-stamped Boron steel underbody skid plates protecting the front end, engine oil pan, transfer case, gas tank, and rear differential.
Stamped-steel Rear Bumper with robust A356-T6 cast-aluminum recovery points and chassis-mounted tubular corner protection.
Bison-specific injection molded fender flares for additional tire coverage and an aggressive look.
AEV-designed, Bison-specific cast-aluminum wheels.
Interior and exterior AEV branding package.
Optional AEV snorkel available directly from AEV or GM dealerships.
The ZR2 Bison also duplicates the full equipment list of the Colorado ZR2.
[gravityform id="1″ title="true" description="true"]