JT Gladiator
AEV JT350 & JT370 Gladiator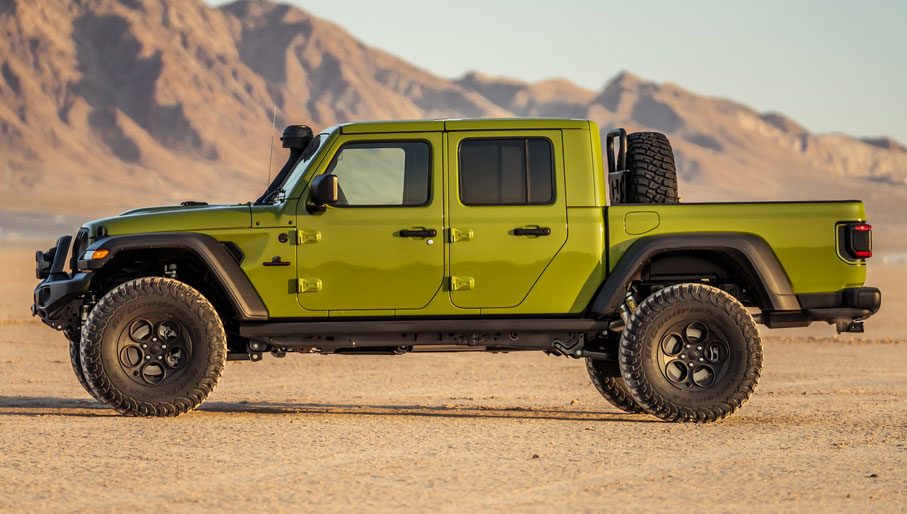 CAPABILITY MEETS CAPACITY
Following in the steps of AEV's Brute Double Cab, Jeep finally gave the purists what they always wanted – a mass produced, Wrangler-based pickup Jeep Gladiator truck. The overwhelming appeal of the AEV Jeep Gladiator lies within its versatility, offering customers the functionality and utility of a pickup truck, combined with the off-road prowess of a Jeep Wrangler. AEV's JT350 and JT370 packages for the AEV Jeep Gladiator elevate this iconic vehicle to the next level as both a daily commuter and as an off-road adventure vehicle.
Features
Front Bumper & Winch: AEV's stamped steel Front Bumper for the JT Gladiator provides superior front end protection, two chassis mounted recovery points and an integrated lower skid plate. Shown with Warn Zeon 10-S Winch and AEV Hawse Fairlead (Winch is optional on JT350 & JT370).

Suspension: AEV's Jeep Gladiator 2-Inch Spacer Lift (standard on JT350) and 2.5" DualSport RT Suspension System provide the optimal balance of load carrying capacity and ride quality that customers have come to expect from AEV. The 2.5" DualSport RT Suspension System is AEV's flagship suspension system for customers looking to the ultimate on/off-road suspension and includes AEV's frequency-tuned, triple-rate coil springs matched with a set of custom-tuned Bilstein shock absorbers and steering damper.

Available Full-Size Spare Tire Mounts: Every AEV JT350 and JT370 Gladiator is available with either a Vertical or Horizontal Bed-Mounted AEV Spare Tire Carrier to securely hold your full-size 35 or 37-inch spare tire securely in-place while you are bouncing around on the trail.

Off-Road Lights: Visibility is essential for finding your way in the dark but also for keeping an eye out for wildlife or road hazards in remote areas. AEV's 7" LED Off-Road Lights were designed for all-terrain travel and provide an exceptional balance of clarity and distance for improved driver safety and peace of mind when traveling at night.

Snorkel: Inspired by heavy duty industrial and military applications around the world, AEV's JT Gladiator Snorkel Kit is designed to improve engine performance by drawing in the cleanest, coolest air charge possible, even in the worst conditions. If you are serious about off-road adventure, the an AEV Snorkel is one of the most important modifications you can make.

JT370 Classic Edition: The JT370 Classic Edition pays tribute to the bold styling of the 1970's, with unique graphics inside and out, white wheels, and more!

Hand Built with Pride: Every vehicle built in our Wixom, Michigan headquarters include a serial numbered VIN plate, exclusive AEV exterior emblems, windshield banner, embroidered headrests and a custom gauge cluster overlay.


Packages
AEV JT350

AEV JL RX Front Bumper

AEV Non-Winch Cover Plate

AEV Front Skid Plate

AEV 7000 Series

LED Off-Road Lights

AEV Light Cover Kit

AEV 2" Suspension Spacer Lift

AEV Front Geometry Correction Brackets

AEV ProCal SNAP Module

AEV Alloy Wheels

35" BFGoodrich All-Terrain or Mud-Terrain Tires

Tire Pressure Monitoring System (TPMS) Sensors

AEV Jack Base

AEV Branding Package

AEV IP Cluster

AEV Logo Headrests

AEV Vehicle Build Plaque

AEV JT370 AEV JL RX Front Bumper
AEV Non-Winch Cover Plate
AEV Front Skid Plate
AEV 7000 Series LED Off-Road Lights
AEV Light Cover Kit
AEV 2.5" DualSport RT Suspension System
AEV Front Geometry Correction Brackets
AEV ProCal SNAP Module
AEV Alloy Wheels
37" Mud-Terrain or All-Terrain Tires
Tire Pressure Monitoring System (TPMS) Sensors
AEV 4.56 Axle Ratio Upgrade
AEV Jack Base
AEV Branding Package
AEV IP Cluster
AEV Logo Headrests
AEV Vehicle Build Plaque


AEV JT370 Classic AEV 2.5" DualSport RT Suspension System
AEV 4.56 Axle Ratio Upgrade
AEV 7000 Series LED Off-Road Lights
AEV Black Branding Package
AEV EX Front Bumper
AEV Front Skid Plate
AEV Hitch Cover
AEV IP Cluster Overlay
AEV Jack Base
AEV Logo Headrest
AEV Non-Winch Cover Plate
AEV ProCal SNAP Module
AEV Retro Graphics on Hood, Sides, and Dash
AEV Stamped Geometry Correction Brackets
AEV White Painted Salta XR Wheels
AEV-Painted Dash Panels
Tire Pressure Monitoring System (TPMS) Sensors
37" BFGoodrich All-Terrain KO2 Tires
AEV Vehicle Build Plaque